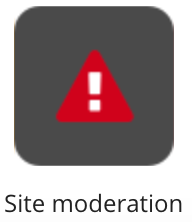 The Site moderation screen on the Admin Panel allows admins to monitor a company instance for offensive and abusive language. When an item of content or a comment is flagged, the user who posted the offending item receives a notification informing them.
The Site moderation screen consists of the following tabs:
Keyword detector tab
The Keyword detector tab allows you to add keywords and phrases to be flagged by the community admin when posted. The Add Keywords section allows you to add one or more keywords that the organisation considers inappropriate or offensive. If a listed keyword appears in an item of content or comment, Fuse automatically flags and reports it to the admin.
An item of content is only flagged by the Keyword detector after it has been posted to Fuse. The Keyword detector cannot prevent offensive content from being posted.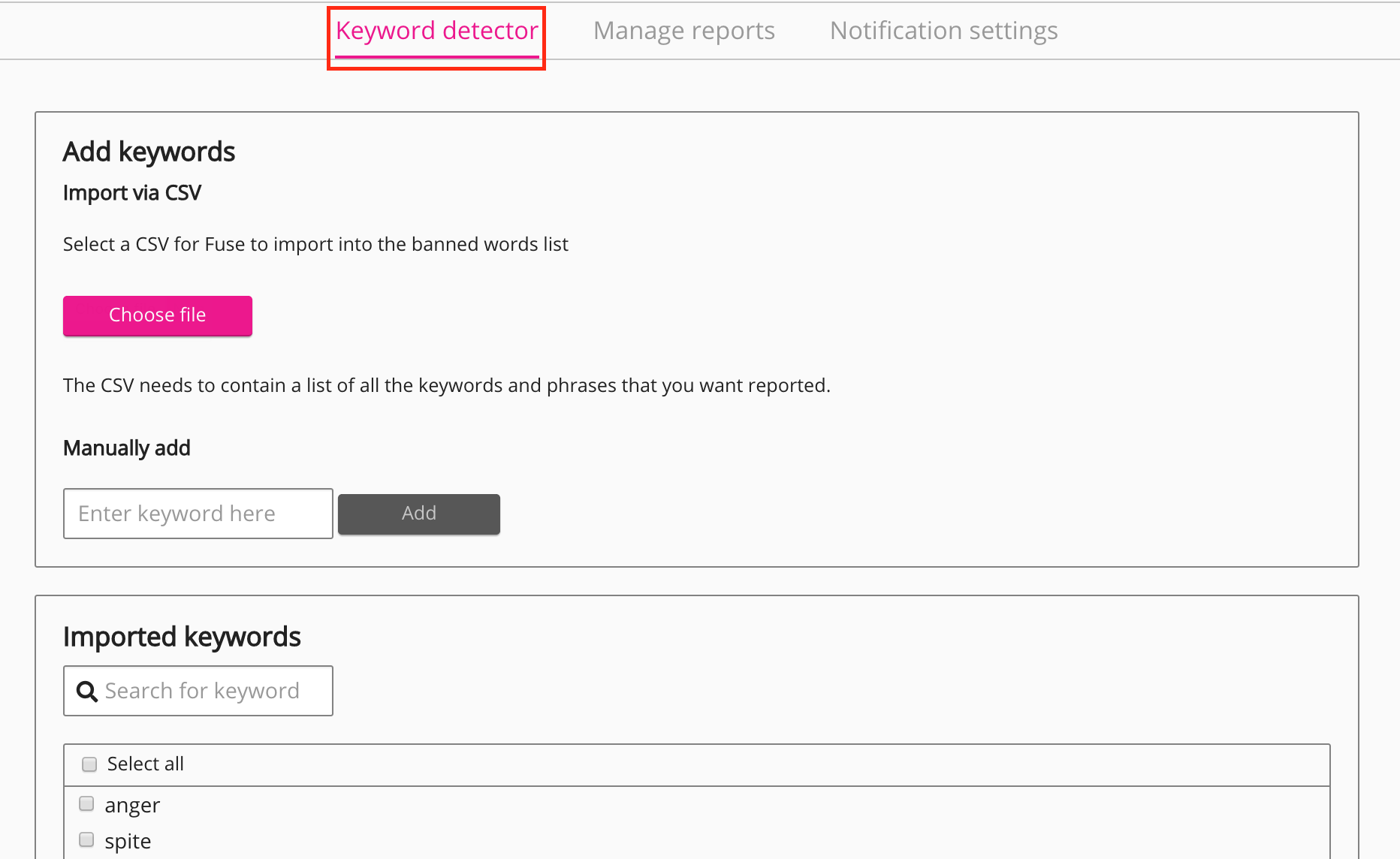 Manually adding keywords
You can manually add one or more keywords or phrases to the Keyword detector.
To manually add a keyword or phrase:
In the Enter keyword here field, enter the keyword or phrase.

Click Add.



The keyword or phrase is added to the list.

Importing keywords
You can import a CSV file containing a list of keywords.

A ZIP file containing a recommended list of offensive keywords in various languages can be downloaded below:
WARNING: The keywords and phrases in the ZIP file above are considered to be offensive.
To import keywords:
Click Choose file.


Locate and select the CSV file.

Click Open.

The file is uploaded and the keywords appear in the list.
Removing a keyword or phrase
To remove a keyword from the list:
Select the checkbox on the left-hand side of the keyword or phrase.


Click Remove.



The keyword or phrase is removed from the list.
Manage reports tab
The Manage reports tab allows you to view and resolve flagged content.

The dropdowns at the top of the screen allow you to filter content by user, community, and type (such as a comment).
Switching off the Hide resolved toggle allows you to view flagged content that has been dismissed and deleted.

Resolving flagged content
To resolve flagged content:
Click Show details on the item of content or comment.


The details of the reported item appear, such as the item's status and the user who flagged it.


Click one of the following:

Delete content: Deletes the flagged item from Fuse

Dismiss report(s): Disregard the report
Notification settings tab
The Notification settings tab allows you to configure notifications received by the community admin and user when content is flagged.

The following settings are available in the Notifications tab:
Site moderation notifications
| Setting | Description |
| --- | --- |
| Content reports by users | All site admins and applicable user groups are notified when a user flags an item of content. |
| Content reports by keywords | All site admins and applicable user groups are notified when the Keyword detector flags an item of content containing a keyword. |
| Comment reports by users | All site admins and applicable user groups are notified when a user flags a comment on an item of content. |
| Comment reports by keywords | All site admins and applicable user groups are notified when the Keyword detector flags an item of content containing a keyword. |
Community admin notifications
| Setting | Description |
| --- | --- |
| Content reports by users | The community admin is notified when a user flags an item of content. |
| Content reports by keywords | The community admin is notified when the Keyword detector flags an item of content containing a keyword. |
| Comment reports by users | The community admin is notified when a user flags a comment on an item of content. |
| Comment reports by keywords | The community admin is notified when he Keyword detector flags a comment containing a keyword. |
User notifications
| Setting | Description |
| --- | --- |
| Send notifications to users on reporting | The user who has posted the offending item of content or comment is notified. |
| Email which will be sent to the culprit | Enter custom HTML for the body of the email that is sent to the user who has posted the offending item of content or comment. |
| Email which will be sent to the user who reported an item | Enter custom HTML for the body of the email that is sent to the user who flagged the offending item of content or comment. |