The Engagement tab displays insights related to user and community engagement with content, based on filters selected in the Filter By section. This data can help you continuously improve the content posted to Fuse, as well as inform your organisation's overall content strategy. If content is exciting, interesting and useful, your users are more likely to converse about it, share it, and engage with it.
Engagement refers to when:
A user likes an item of content.

A user comments on an item of content.

A user follows an item of content.

Items are shared, such as content, event occurrences, topics, or surveys.
Notes:
For information on how to view, like, follow and share an item of content, see Content homepage.

For information on how to comment on an item of content, see comments.
Active users and engaged users are not the same:
Active users: An active user is someone who has a user account and has successfully logged in to Fuse at least once. After a user has logged in, they can perform various actions such as searching for content, visiting a user profile page, signing up for an event, and so on. Data and insights related to active users can be found in the Overview tab.

Engaged users: An engaged user is someone who has viewed, liked, commented on, followed, or searched for an item of content at least once.
An active user can become an engaged user if they interact with an item of content in one of the ways listed above.
Active users can only be measured on a site wide level. If you want to understand active usage of communities, we recommend using the Engaged Users Overview tab.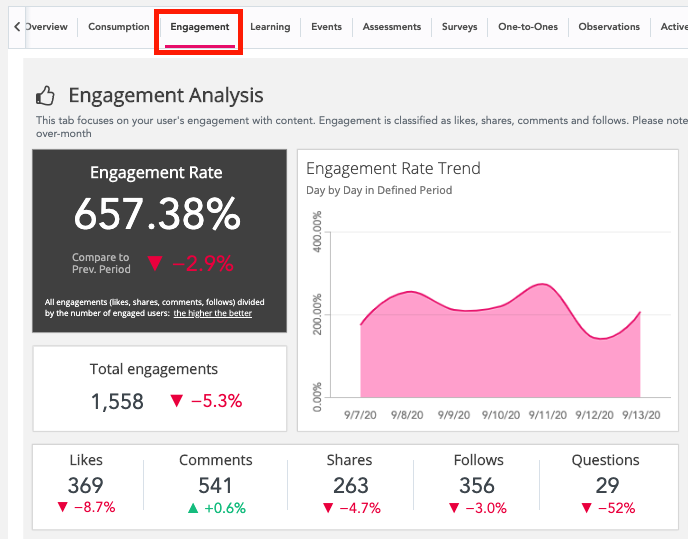 The Engagement tab is divided into the following sections: