The new document viewer allows you to view Open XML Microsoft files directly in Fuse, including DOCX, XLSX, PPTX, and PDF.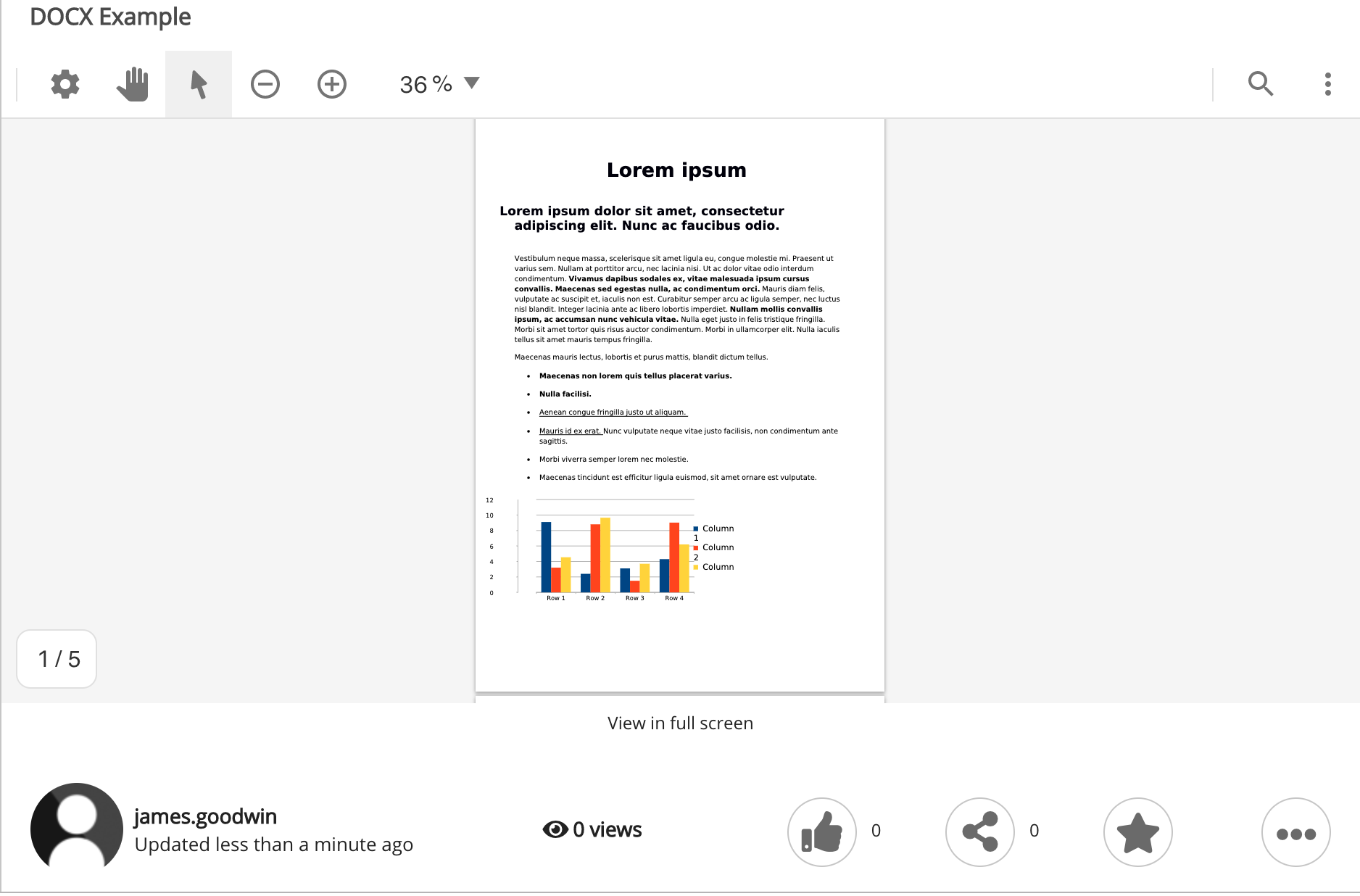 Notes:
If you have older versions of Microsoft files in Fuse (such as DOC, XLS or PPT) you must convert them to Open XML before they can be viewed in the new document viewer.

Currently, hyperlinks within PDFs are not clickable in the new document viewer. For a list of workarounds, see Why don't hyperlinks work in PDFs?.
Macro files such as .XLSM are not viewable in the document viewer. This is because macros may contain malicious code and are generally not supported by file hosting services. If downloaded, .XLSM files will be packaged in a ZIP file.
The new document viewer comes with the following built-in options:
Option

Description

View Controls

Allows you to change the view, orientation, and page/slide transition.

You can:

Show or hide breaks between pages/slides.

Change the layout of the pages/slides.

Rotate the pages/slides in the file, so they appear clockwise or counter clock-wise.

Pan

Allows you to pan around the file, by clicking and holding the cursor. This is useful in helping you navigate around a certain page/slide when zoomed in.

Select

Allows you to highlight text within the file and copy it.

To highlight and copy text in the file:

Click the Select icon.

Highlight text in the file.

Click the Copy icon.

The selected text is copied.

Zoom in and out

Zoom in and out of the file by clicking the + and - icons.

You can also select a predefined option from the dropdown, such as Fit to width, Fit to page, or a specific zoom percentage.

Search

Allows you to search for keywords and phrases in the file.

To search within a file:

Click the Search icon.
The search bar appears.

In the search bar, enter a keyword or phrase.


Every instance of the keyword or phrase is highlighted in the file.

You can browse to the location of each instance of the keyword or phrase, using the arrows next to the search bar.


Menu

The Menu icon reveals the following options:

Full screen: Click to view the file in full screen mode.

Print: Click to print the whole file or certain slides/pages.