The Assessment settings tab allows admins to configure settings for informal, comprehension, diagnostic, and formal assessments, as well as surveys.
The Informal assessment type is always selected when navigating to or refreshing the Assessment settings tab. Settings selected for other assessment types are still saved.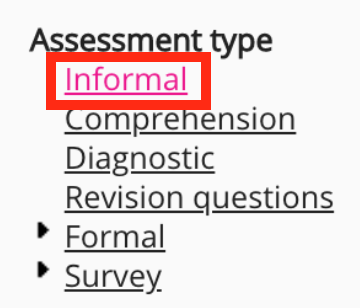 The Assessment Settings screen is divided into sections, each covering a different assessment type - Informal, Comprehension, Diagnostic, Revision questions, Formal, and Survey.

The following settings are available for each assessment type: