The Community admin screen allows community admins to manage a community.
The layout for each community homepage can be customised in the Community Specific tab in Design Studio.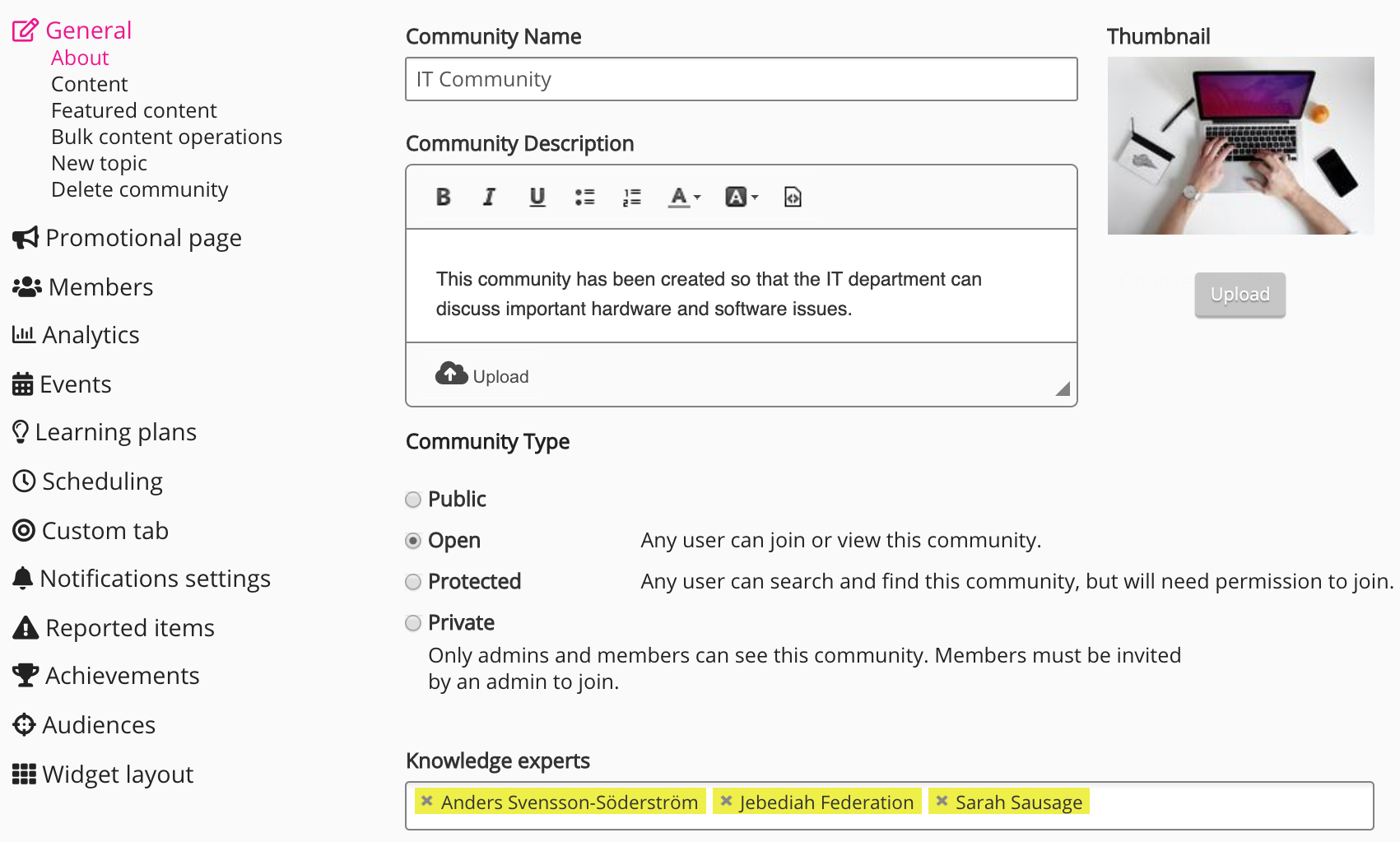 To go to the Community admin screen:
Expand the sidebar.
Click Communities.
The Browse page appears.
On the Browse page, select a community.
The General tab of the Community admin page opens.
The menu on the left-hand side of the Community admin screen contains the following tabs:
Tab
Description

Update general information for the community.

The General tab contains the following sub tabs:

About: Update the community name, description, type, knowledge experts, subscription plan, cost, community tab labels, and community settings.
Content: Add and remove content in the community.
Featured content: Add and remove featured content in the community.
Bulk content operations: Perform bulk operations on content in a community, such as changing content ownership and copying content to another community you are a community admin for.
New topic: Create new topic in the community.
Delete community: Delete the community.

Activate the Promotional page and add content that you want to promote to users within the community.
Add and remove members from the community and assign Community admin status.
View content and user metrics for the community.
Create events and add community members.
Create new learning plans and edit existing learning plans.
Schedule a date and time to share content with users,

communities, and

Audiences.

Create and add custom tabs to the community homepage.

The Custom tab feature is deprecated for the mobile app.

Configure notification settings for community admins.
View and moderate content, comments on items of content, shares, and one-to-one comments, that have been reported by users.
Create audiences to categorise users in the community.

Adjust the layout of the community homepage, as well as add and remove widgets.